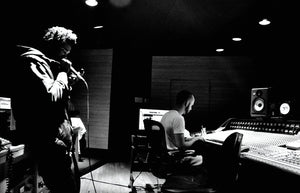 ⭐ *IMPORTANT* ⭐
READ "What package is right for me?" AT THE BOTTOM OF THIS PAGE BEFORE ORDERING
Welcome To My Studio 

🎹🎛 
I do all my mixing out of my $10,000+ Acoustically Treated Studio with industry-standard plugins. 
Mixing vocals is critical to creating a track that catches a listener's attention.
A great vocal can make or break a song. Creating the right conditions for the vocal to shine is why mixing is so important.
My Studio and years of working with Hip-Hop / Punk allow me to easily target imperfections and boost where needed.  I can hear exactly how your track will sound no matter where someone is listening to it (AirPods, car, the club, festival speakers) 
🔑 "Without 40, Oli, There'd be NO Me" - Drake 
Great artists realize that they need someone who can help their unique vision come to life, "40" is drakes mixing engineer / Producer and Drake admits that without him, there'd be no Drake. There's a reason Kanye doesn't create an album without Max Martin and Young Thug never rolls without Alex Tumay. The mix is EVERYTHING.

I want to work with artists who are ready to take their craft, brand, and business seriously by investing in themselves. T
he best thing you can do early on is finding someone who you can consistently work with on honing in on a sound together.
Drake and 40, Kanye and Max Martin, Young Thug, and Alex Tumay, and the list goes on. 
.
➡ Independent Artists Need Some Help
There are almost no rappers at a pro-level who mix their own vocals, and there are a few reasons for this. It takes years of mixing work to get to a level of professional quality that is expected in today's music game. Independent artists already have enough things taking up their time. So not having to worry about fiddling with a mix themselves only to get sub-par results allows them to focus on what's really important to them like writing, recording, rapping, networking and marketing.
➡ The Billboard Charts of 2022 Are FULL of TEENS who got their track mixed by a professional 

 Mixing is a skillful art that takes attention to detail so every track in the song can be heard/or has a place to sit in the audio spectrum without being harsh or getting lost in the mix. This is done with various techniques... ie: Panning; Editing; Automation; Compression; EQ; Reverbs; Delays; Side Chaining..etc.
It all comes down to problem-solving. Whatever it takes to get everything to sit properly in the mix.
Every song on the radio or song that has hit number 1 on the charts / blown up on Tik Tok has been mixed/mastered.
If you are new to mixing I'm sure you know how hard it is to do it well. This is where I come in...
I hold have been Mixing, Producing, Writing, and Recording Hip Hop / Punk artist's for the last ten years. I live and breathe this genre and want to help turn your artistic vision into a reality.
✅ WHAT PACKAGE IS RIGHT FOR ME?
🥉🥈💎
All Packages are currently 50% OFF for first-time customers (Reflected in the price below) (after reading which package would best suit you you can order from the top of the page!)
🥉 

Industry Ready BRONZE Mixing Package

- $40 🥉
Ordering 1 quantity ($40) will get you the BRONZE Mix and Master of up to 3 stems. The first crucial step in vocal mixing is building a solid foundation that we can build upon. This package includes the following to get your lead vocal to an acceptable even base level that amature mixes often lack
- Auto-Tune
- Making sure volume levels are correct for streaming/stage
- Breath reduction
- Sibilance reduction
- ⭐ Industry Standard EQ & Compression ⭐
- Timing Correction
- HQ WAV file delivery
- 2-day delivery (If you need a 1-day delivery let me know)
🥈 Industry Ready SILVER Mixing & Mastering Package - $80 🥈
If you have a song you really love this is probably where you should start
Ordering 2 quantities ($80) will get you the SILVER Mix and Master of up to 5 stems. This package is where things start to get fun, you'll really be able to hear your vocal being taken to the next level of what is needed in today's competitive music scene.
- Everything from the BRONZE package
- Mastered for streaming services
- ⭐ The Beat will be mixed to perfectly fit your voice inside of it ⭐
- Industry-standard reverb plugins and techniques

- Multiple timing delays for vocal width
- Various techniques and professional VSTS for vocal widening and filling to really fill out the track, Doublers, imagers, ect
- Panning
- 2-day delivery (If you need a 1-day delivery let me know)
💎 Industry Ready DIAMOND Mixing & Mastering Package

 - 

$120 💎
Ordering 3 quantities ($120) will get you the DIAMOND Mix and Master of up to 5 stems. This is the ultimate package for the artist who wants to hit the billboard today. Every technique, plugin, and mindset that would go into a radio-ready track is utilized here.
- Everything from the SILVER package
- ⭐ Experienced Personal Touch - Now that things are at a great place listening wise we can start setting it apart from the crowd by adding creative mixing to the track ⭐
- Creative Delays, Reverb, and other FX (this is what sets tracks apart- when the engineer can come in and put his personal stamp on the track beautiful things start to happen
- Advanced FX pass for maximum WIDTH, Flangers, Choruses, Shifters
- The second opinion on arrangement, lyrics, melody, placement, doubles etc, I can give an educated and artistic outside opinion on the entire song to help you create the best work possible (Notes, timestamps, advice) (Only if wanted)
- 3-day delivery (If you need a 1-day delivery let me know)
 EXTRAS (Contact me after buying your package if you want any of these(:)
Live Version (+1 day) I will give you a version with your background vocals, adlibs and beat to be used when performing live - $10

1-day delivery - $20
🕓 WHAT DO I DO AFTER I ORDER? ~
MIXING PREPARATION
I'm an Ableton user but a lot of great stuff is done on many types of DAW's (Digital Audio Workstations). Pro Tools, FL Studio, Logic, Reason, Cubase to name a few. They all basically operate the same way. The download below is what I need from you and what you will get from me.
DOWNLOAD THE MIXING CHECKLIST
for the vocal stems ill take one long .wav stem of your lead vocal (all the punch ins ect in one .wav) and then all your adlibs combined in one .wav, and then all your vocal doubles in one .wav, and so on.
for the beat, I can take all of it bounced together as one solid .wav! I can mix your vocals into that just fine.

Please include BPM & Key of your song/beat (if you don't know the KEY that's okay, I can figure it out myself(:)
what I do is just solo the sections I want, like all my lead vocal tracks. then I highlight from the start to the end of my song, hit export, no dither selected. and then after its done repeat that process for adlibs, ect
 FAQ
Q. How many revisions do I get?
A. I will give you 2 revisions as is standard!
Q. What can I expect when working with you? Why choose you?
A. I'm a mix engineer who is also an artist, I understand arrangement, melody, structure, and cadences just as much as I understand Mixing. I look at your song from both perspectives which results in a better overall product. I would hope that my resume and reviews would speak for themselves. I will ALWAYS give my best effort on your music. When I take on a gig, it becomes my "baby" as well. You can expect exceptional communication and superb customer service. I work 24/7 and will always be around for YOU.
 👂🏻 Before and after of some of my purposefully terrible vocals, showing that I can work with anything.  👂🏻
⬇ Here's my most recent review of the SILVER package ⬇